Decimating the Hidden Stronghold: Nigerian Troops Obliterate IPOB Hideout in Delta, Unearth Weapons Cache
In a resolute display of force and determination, troops from the Nigerian Army, operating under the 63 Brigade Garrison and in collaboration with the Department of State Services, successfully dismantled the secretive sanctuary of the proscribed Indigenous People of Biafra (IPOB) in Delta state. This significant operation not only neutralized a potential threat to national security but also resulted in the recovery of a substantial cache of weapons. Here we delve into the details of this remarkable mission.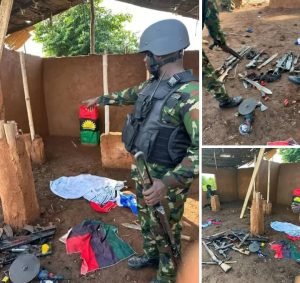 The Decisive Strike:
On a fateful Saturday, the combined forces of the Nigerian Army's 63 Brigade Garrison and the Department of State Services executed a meticulously planned offensive against the outlawed Indigenous People of Biafra. The targeted location, which served as a sanctuary for the separatist group, was razed to the ground, effectively dismantling their operational base. This display of unwavering determination showcases the commitment of Nigerian security operatives in upholding the nation's unity and safeguarding its citizens.
A Collaborative Effort:
Recognizing the need for a concerted effort to eliminate the threat posed by IPOB, the Nigerian Army collaborated closely with the Department of State Services. This joint operation effectively utilized the unique expertise and capabilities of both agencies, ensuring a swift and precise execution. The seamless coordination between the military and intelligence forces demonstrates the government's commitment to maintaining peace and stability in the region.
Unveiling the Hidden Arsenal:
Alongside the destruction of the IPOB hideout, the security operatives made a remarkable discovery—the unearthing of a significant cache of weapons. These arms, which were concealed within the enclave, highlight the dangerous intentions and potential harm that IPOB posed to the general public and the nation's security. The recovery of these weapons further strengthens the case against the proscribed organization and underscores the necessity of their disbandment.
A Blow to Secessionist Agendas:
The obliteration of IPOB's hideout in Delta state deals a severe blow to their secessionist aspirations. By dismantling their operational base, the Nigerian Army has disrupted the group's ability to plan and carry out activities that threaten the unity of the nation. This resolute action sends a clear message that the Nigerian government remains unwavering in its commitment to preserving the sovereignty and territorial integrity of the nation.
The successful operation carried out by troops of the Nigerian Army and the Department of State Services against the proscribed Indigenous People of Biafra in Delta state marks a significant milestone in the fight against separatism and threats to national security. By decimating the hideout and recovering a substantial arsenal, the security forces have struck a decisive blow against IPOB's secessionist agenda. This demonstration of resolve emphasizes the government's unwavering commitment to maintaining peace, unity, and security within the nation's borders. The operation stands as a testament to the effectiveness of collaborative efforts and the dedication of Nigerian security operatives in safeguarding the country from internal threats.